As you embark on your spring travels, we are excited to introduce you to a hidden gem nestled in the heart of the picturesque San Pasqual Valley, Bandy Canyon Ranch. Our boutique hotel is a sanctuary of serenity, offering a unique blend of rustic charm and modern luxury. With its breathtaking views, tranquil surroundings, and impeccable hospitality, Bandy Canyon Ranch promises an unforgettable getaway for those seeking an idyllic escape from everyday lift. Join us as we explore the allure of this enchanting retreat and discover why Bandy Canyon Ranch is the ultimate destination for an exceptional April retreat.
At Bandy Canyon Ranch, the guest experience is always at the forefront, and that's why we are thrilled to announce the recent completion of our cottage renovations. Our team has reimagined and refurbished our cottages to elevate your stay to new heights of comfort and style. Each cottage now boasts a modern and chic aesthetic, while still retaining the rustic charm that makes Bandy Canyon Ranch so unique. From upgraded furnishings to updated amenities, our newly renovated cottages are designed to provide you with an unparalleled level of relaxation and sophistication, ensuring a truly memorable stay.  
Step inside our revamped cottages and be greeted by the warm ambiance of carefully curated interiors. The thoughtfully chosen color palettes, premium linens, and stylish decor create an inviting and cozy atmosphere that will make you feel right at home. The attention to detail is evident in every aspect of the renovation, from the updated bathrooms with luxurious fixtures to the enhanced lighting and technology features. Whether you're enjoying a peaceful morning on your private patio or curling up by the fireplace in the evening, our renovated cottages provide the perfect blend of modern comforts and rustic elegance for an unforgettable stay.
In addition to the upgraded interiors, our renovated cottages also offer improved amenities to enhance your stay. Stay connected with high-speed Wi-Fi, relax with a flat-screen TV and entertainment system, and indulge in the convenience of a mini fridge and coffee maker. Step outside your cottage and be greeted by the natural beauty of Bandy Canyon Ranch, with its serene views, majestic oak trees, and abundant wildlife. Take a dip in our sparkling pool, unwind in the hot tub, or explore the hiking trails and vineyards nearby. Whether you're seeking a romantic getaway, a family vacation, or a peaceful retreat, our newly renovated cottages at Bandy Canyon Ranch are designed to exceed your expectations and provide you with an unforgettable experience.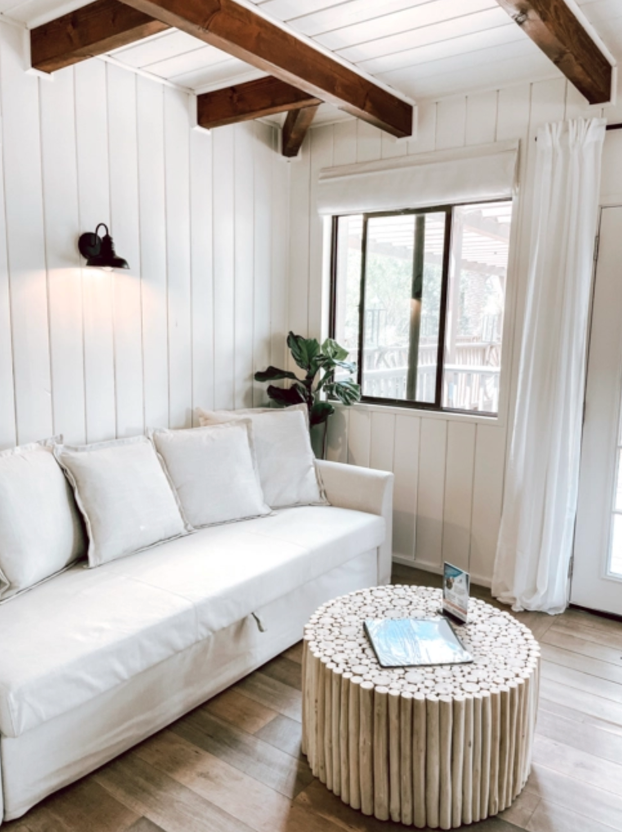 Glamping Area (Coming Soon)
Exciting news awaits adventure-seekers at Bandy Canyon Ranch! Introducing our newest addition – the state-of-the-art glamping area, featuring brand new dome tents and an outdoor shower area. Nestled amidst the scenic beauty of Bandy Canyon, our glamping site offers a one-of-a-kind experience for nature enthusiasts looking to immerse themselves in the great outdoors while still enjoying modern comforts. Our new dome tents are designed to provide a unique blend of luxury and nature, allowing you to reconnect with nature without sacrificing comfort.
Step into your own private sanctuary in our new dome tents, which are thoughtfully designed to provide a cozy and upscale camping experience. Each dome tent is equipped with comfortable bedding, stylish furnishings, and ambient lighting, creating a serene and inviting ambiance for a restful night's sleep. With ample ventilation and windows that offer stunning views of the surrounding nature, you can wake up to the gentle sounds of birds chirping and the sight of sunlight filtering through the trees. 
One of the highlights of our glamping area is the outdoor shower area, which offers a refreshing and immersive experience in nature. Indulge in a unique showering experience as you bask in the natural beauty of Bandy Canyon, with open-air showers that provide a sense of connection with the pristine surroundings. The outdoor shower area is designed with modern amenities and eco-friendly features, including solar-powered showers and sustainable practices, to ensure a harmonious blend of luxury and sustainability. It's the perfect way to start your day or unwind after a day of exploring the nearby hiking trails, vineyards, and other local attractions.
From floating rafts and pool noodles to water guns and beach balls, there are endless possibilities when it comes to pool toys. Children can have a blast playing with them, while parents can relax. We want our guests to make the most out of their pool day, and bringing along pool toys is a great way to do that. So if you're planning to stay at Bandy Canyon Ranch with your family, don't forget to pack your pool toys!
In addition to the pool area, there are many other outdoor spaces at Bandy Canyon Ranch where toys can be enjoyed. Our concrete paths provide the perfect opportunity for skateboarders and scooter enthusiasts to show off their skills! These paths offer a smooth ride and are great for beginners and experienced riders alike. If you're a mountain biking enthusiast, you'll be pleased to know that our hiking trails offer an excellent challenge for riders of all levels. With varying terrains and difficulties, our trails provide an exciting and adventurous experience for riders. The beautiful natural surroundings of the ranch make the experience even more special, with stunning views and fresh air to enjoy along the way.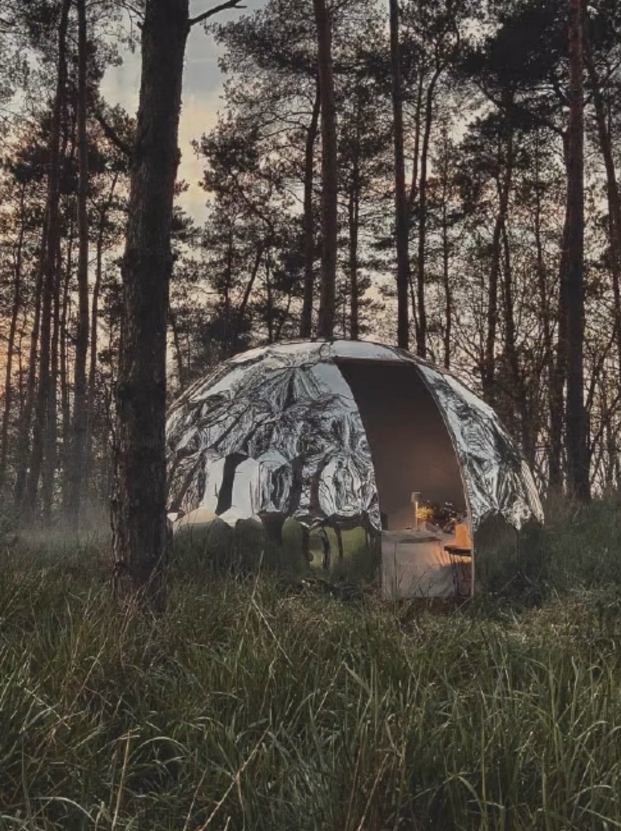 Bandy Canyon Ranch is proud to announce the formation of our non-profit animal sanctuary and equestrian center, Canyon Farm Animal Sanctuary. A labor of love that reflects our commitment to animal welfare and conservation. As a boutique hotel nestled in the serene Bandy Canyon, we have always been passionate about the natural beauty and wildlife that surrounds us. Our animal sanctuary is home to a diverse range of animals, including horses, pigs, ducks, sheep, and mules, who have found refuge and care in our dedicated facility. This non-profit initiative is a reflection of our deep-rooted values and our unwavering commitment to promoting animal welfare and conservation efforts.
We believe in the importance of education and advocacy in animal welfare. The animal sanctuary and equestrian center serve as a platform for educating our guests and the local community about the significance of animal conservation, responsible pet ownership, and ethical treatment of animals. Through guided tours, educational programs, and outreach initiatives, we aim to raise awareness and inspire others to take action in protecting and preserving our precious wildlife. When you stay with us at Bandy Canyon Ranch, you are not only indulging in a unique hospitality experience, but you are also supporting our noble cause of promoting animal welfare and conservation efforts.

Join us in our mission to protect and care for animals at our non-profit animal sanctuary and equestrian center. Experience the beauty of our animal sanctuary and witness firsthand the incredible work we do in rehabilitating and advocating for animals in need. Your stay at Bandy Canyon Ranch is not only an opportunity to relax and rejuvenate in nature, but also a chance to make a positive impact on the lives of animals in our care. Book your stay with us today and be a part of our noble cause to promote animal welfare and conservation efforts.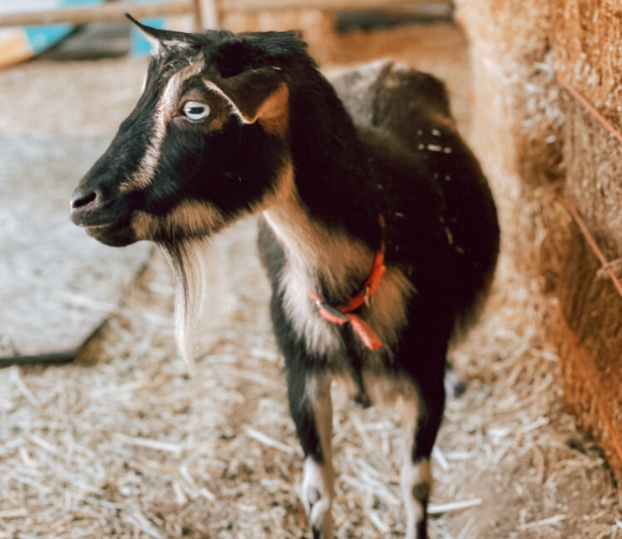 Our pool area is a popular spot for relaxation and fun. Lounge by the pool on our comfortable cabanas, soak up the sun, and take a dip in our inviting swimming pool. Our pool area also features a bar where you can enjoy refreshing drinks and cocktails while basking in the tranquility of the surrounding nature. It's the perfect spot to unwind after a day of exploring nearby hiking trails or indulge in a leisurely afternoon of lounging and socializing with fellow guests. Our pool area with cabanas and a bar is designed to offer a serene and luxurious atmosphere where you can rejuvenate and indulge in the ultimate relaxation experience.
At Bandy Canyon Ranch, we understand the importance of creating a well-rounded experience for our guests. Our resort-style amenities, including BBQ areas, fire pits, and a pool area with cabanas and a bar, are designed to provide you with a variety of options for relaxation and recreation. Whether you're seeking a peaceful moment by the fire pit, a delicious BBQ meal, or a refreshing dip in the pool, our amenities are here to enhance your stay and create cherished memories. Come and experience the best of Bandy Canyon Ranch and indulge in the ultimate boutique hotel experience.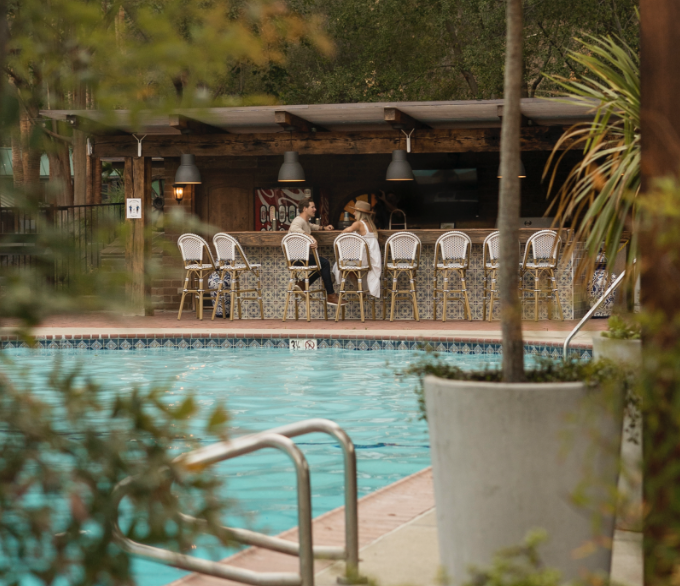 If you're looking for a truly unique and exceptional hotel experience, look no further than Bandy Canyon Ranch. Our boutique hotel offers a range of amenities and facilities that are designed to provide our guests with an unforgettable stay. From our newly renovated cottages and state-of-the-art glamping areas to our animal sanctuary and equestrian center, BBQ areas, fire pits, and pool area with cabanas, we have something for everyone. Our team is dedicated to ensuring your comfort and satisfaction, and we are ready to go above and beyond to make your stay with us a truly memorable one.

Whether you're seeking a relaxing getaway, an adventurous outdoor experience, or a meaningful encounter with animals, Bandy Canyon Ranch has it all. Our team is eager to welcome you and provide you with a memorable hotel experience that exceeds your expectations. Stop on by and discover the magic of Bandy Canyon Ranch for yourself. Book a stay with us today!